One of the MANY challenges that we face as women is THINNING HAIR. Yes, I know it's a touchy subject. But it's a real issue for approximately 30 million women in America.
Thinning hair can be caused by numerous factors such as diet, heredity, health problems, medication or simply by aging.  But regardless of the cause, no one wants a thinning head of hair. It's not flattering, and leads us to feel insecure.
We've had enough of all of this thin hair business. There has got to be a better way!
And it has been discovered…
I'm sure a lot of you are thinking – hair extensions? Na, not my style. (Or at least that's what I have always said – as I am not a fan of anything that appears FAKE!)
Let's be clear on this now, VoMor Extensions are nothing like the packaged hair that you can pick up at your local product store. This is REAL hair that has amazing texture and vibrance!
And just so you know, you don't have to have thinning hair to experience this fabulous product. You may be someone like me. I told my stylist to cut 7″ of my hair off just because I was in some kind of a mood. Well, when the next mood came around… I wanted my hair back! But by then, it was LONG gone!
The VoMor line brings "hair extensions" to a whole new level. This hair has a truly seamless look, is perfectly matched to your color, and it's so easy to care for.
Now let's get down to the facts about VoMor.
VoMor provides volume, thickness, and color that creates beauty and confidence for women with fine or thinning hair. 
Extensions are housed in-salon, so there's no ordering and waiting. You could have fuller hair today. Don't you just love instant gratification?!
VoMor is available in 2 length options (12" or 16").  Allowing you to customize your desired look.
Extensions are available in 28 blend-able colors to match your natural or colored hair.
VoMor's innovative tape system is easily reapplied; so you can reuse your extensions without compromising the integrity of your natural hair.
All hair is ethically sourced and manufactured.
VoMor Hair Extensions are available at Brieshi today! Fuller, more beautiful hair happens in a few easy steps:
1) Schedule a consultation with your regular stylist.
2) Choose your ideal length and color combination.
3) Have your hair applied in the same length of time as a regular color/cut appointment – there's no need to spend a full day in the chair! Who has time for that?
The application lasts for 6-8 weeks, and then you'll need to come back to have your extensions cleaned and re-applied. With proper care, you can use your same extensions for up to a full year!
For costs on consultation, application and cleaning, ask a member of our team or call Brieshi today at 479-246-0502.
Let's take a look at some before and after photos!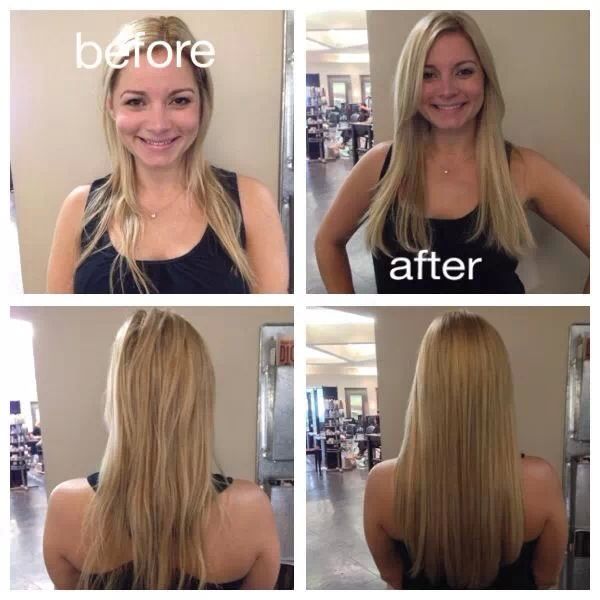 The results speak for themselves.
So come over to Brieshi today and let the experts transform your locks with the VoMor experience!